Locations
Choosing a school for your child is one of the most important decisions that you will make as a parent. At Discoverie by Vinci School, we believe that early childhood education should focus on learning that is both personalized and hands-on. Children are naturally curious, and we utilize that curiosity to help them learn about the world around them through a wide variety of hands-on games, activities, and puzzles.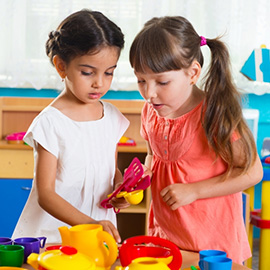 We offer private education services to families with children as young as six weeks, all the way through high school. Discoverie by Vinci School utilizes a blended approach to learning by combining the best parts of the Montessori curriculum, the Reggio Emilia Creative Learning curriculum, and other developmentally appropriate technology. We share social and academic reports of each child's progress with their parents so that they have the assurance they need about their child's education. 
With two locations in Springfield and Mountain Lakes, we work to make access to a good education more convenient for you. If you are interested in scheduling a tour, then please contact the location that is better for you.