Choosing which school will be the best fit for your child and family can be a difficult decision. There are so many different items to consider, such as the school's approach to education, extracurricular offerings, and class sizes. You want the best for your child, and so do we. At Vinci Academy in Mountain Lakes, we offer everything your child needs to learn and grow in a fun and safe environment. Contact our Top Rated Local® child care center today to see all that we offer!
Montessori and Reggio Inspired

We offer curriculum that is inspired by the Montessori and Reggio approaches to education. Montessori is a child-centered education philosophy that sees the teacher's role as more of an assistant to the students as they navigate materials and learn at their own pace. The Reggio is method is project-based — lessons are based on the interests of the students. We also support The Creative Curriculum® at Vinci Academy in Mountain Lakes to utilize exploration and discovery in the learning process. We have a strong focus on STEM – science, technology, engineering, and mathematics – in our approach to education.
Health and Safety
We know that your child is precious to you, which is why their health and safety is of the utmost importance to us. We take the appropriate measures to ensure that our facilities are cleaned and protected so that you can feel confident about your child's safety when you drop them off each day.
Wellness and Sanitation
We monitor children during the course of the day to be aware of any symptoms they may present. During the cold and flu season, we increase our assessments so that you can rest easy when it comes to your child's health. If your child does not feel well, then we will contact you to pick them up so that we can prevent any illness from spreading. We also use daily electronic reporting to give you real-time information and additional peace of mind.
At Vinci Academy in Mountain Lakes, rooms are sanitized three times a day with non-toxic cleaning products. All of our cleaning supplies are securely stored and locked out of the reach of children. In addition, we sanitize all toys throughout the day to help prevent the spread of germs. Children are encouraged to wash their hands throughout the day as they eat and use the restroom. For our youngest children and infants, diaper changes are conducted in a separate area, and all floors and rugs are sanitized on a daily basis.
Security and Qualifications
At Vinci Academy in Mountain Lakes, our center is secured with a door code so that only authorized staff and enrolled families may enter. Safety gates, window guards, and cap electrical outlets are all utilized to ensure the children's safety. Smoke detectors and fire extinguishers are also installed throughout our centers.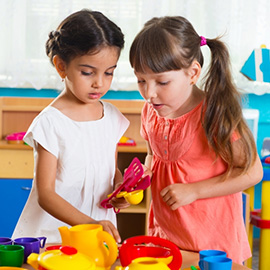 Our dedicated, friendly caregivers are trained in child development, early childhood education, and other related fields. Criminal background checks are conducted by the school on a regular basis. All staff and teachers are trained in both basic first aid and CPR. Regular drills for earthquakes, fires, and lockdown situations are conducted so that all staff and children are prepared in the case of an actual emergency.
Vinci Academy in Mountain Lakes knows that you have a choice when it comes to the school you choose for your children. This is why we offer the best in education, health, and safety for all of our families. Call our Top Rated Local® child care center to learn how you can enroll today!